---
The Introverted Presenter [electronic resource] : Ten Steps for Preparing and Delivering Successful Presentations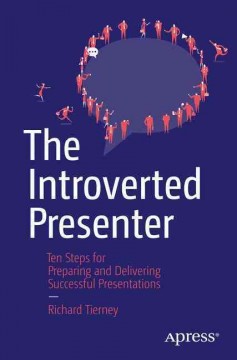 Electronic resources
Summary:
The introvert is a personality type that draws energy from the outside inward. According to standard personality testing assessments, most people are introverts and no group is more introverted than technical professionals. Introverts are congenitally programmed to recoil from the prospect of public speaking with fear and loathing, yet making presentations to expert and non-expert audiences is an inescapable requirement for career advancement in any technical field. Presentation coach Richard Tierney rides to the rescue of fellow introverts in the IT and engineering sectors with The Introvert
Record details
ISBN:

9781484210888

Physical Description:

1 online resource (85 p.)

PublisherSSS:

Berkeley, CA :

Apress,

2015.
Content descriptions
General Note:

Description based upon print version of record.

Formatted Contents Note:

Contents; Introduction; Chapter 1: Introverts and Presentations; Chapter 2: Feared More Than Death; Chapter 3: Your Objective; Step 1: Define Your Audience; Chapter 4: Presentation Structure; Chapter 5: Writing Your Speech; Chapter 6: Refining; Chapter 7: Presenting Tips; Chapter 8: How to Love Technology; Chapter 9: Primacy and Latency; Chapter 10: Prepare for Performance; Chapter 11: Time to Shine; Chapter 12: The Aftermath; Chapter 13: The Last-Minute Panic; Appendix A: Case Study; Step 1: Preparation; Step 2: Objective; Step 3: Outline; Step 4: First Draft; Step 5: Refinement

Step 6: Final DraftStep 7: Visual Support; Step 8: Rehearsal; Step 9: Performance; Step 10: Aftermath; Index; The Introverted Presenter; About the Author; Acknowledgments; Other Apress Titles You Will Find Useful

Summary, etc.:

The introvert is a personality type that draws energy from the outside inward. According to standard personality testing assessments, most people are introverts and no group is more introverted than technical professionals. Introverts are congenitally programmed to recoil from the prospect of public speaking with fear and loathing, yet making presentations to expert and non-expert audiences is an inescapable requirement for career advancement in any technical field. Presentation coach Richard Tierney rides to the rescue of fellow introverts in the IT and engineering sectors with The Introvert
Search for related items by subject