---
Caravans of gold, fragments in time : art, culture, and exchange across medieval Saharan Africa / edited by Kathleen Bickford Berzock.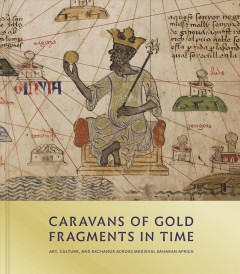 Available copies
Current holds
0 current holds with 2 total copies.
Summary:
"Caravans of Gold, Fragments in Time draws on the latest archaeological discoveries and art historical research to construct a compelling look at medieval trans-Saharan exchange and its legacy. Contributors from diverse disciplines present case studies that form a rich portrayal of a distant time. Topics include descriptions of key medieval cities around the Sahara; networks of exchange that contributed to the circulation of gold, copper, and ivory and their associated art forms; and medieval glass bead production in West Africa's forest region. Featuring a wealth of color images, this fascinating book demonstrates how the rootedness of place, culture, and tradition is closely tied to the circulation of people, objects, and ideas. These "fragments in time" offer irrefutable evidence of the key role that Africa played in medieval history and promote a new understanding of the past and the present"--
Location
Call Number / Copy Notes
Barcode
Shelving Location
Circulation Modifier
Age Hold Protection
Active/Create Date
Status
Due Date

Columbia Gorge Community College Library

709.01074 BERZ 2019

(Text)
39705000028745

Main Collection

Book
None
04/01/2019
Available
-
Record details
ISBN:

9780691182681

ISBN:

069118268X

Physical Description:

311 pages : color illustrations, color maps, charts ; 29 cm

Publisher:

[Evanston, Illinois] :

Block Museum of Art, Northwestern University :

[2019]

Copyright:

©2019.
Content descriptions
| | |
| --- | --- |
| General Note: | Published on the occasion of the exhibition at the Mary and Leigh Block Museum of Art, Northwestern University, Evanston, Illinois, January 26, 2019-July 21, 2019; The Aga Khan Museum, Toronto, Canada, September 21, 2019-February 23, 2020; and the National Museum of African Art, Smithsonian Institution, Washington, DC, April 8-November 29, 2020. |
| Bibliography, etc. Note: | Includes bibliographical references (pages 293-309). |
| Formatted Contents Note: | Section I: Groundwork. Caravans of gold, fragments in time : an introduction / Kathleen Bickford Berzock -- Uncertain fragments : a divination / Views from afar : reading medieval trans-Saharan trade through Arabic accounts / Robert Launay -- The sources of gold : narratives, technology, and visual culture from the Mande and Akan worlds / Ralph A. Austen -- Fragments at risk : the protection of cultural heritage in Mali, Morocco, and Nigeria / Mamadi Demb©♭l©♭, Ahmed Ettahrir, Youssef Khiara, and Yousuf Abdallah Usman. -- Section II: Sites. The Sahara as a cultural zone / Cynthia Becker -- Sijilmasa's role in the African gold trade / Ronald A. Messier and Abdallah Fili -- Essouk-Tadmekka : a southern Saharan center of the early Islamic camel caravan trade / Chris Abani -- Gao, a middle Niger city in medieval trade / Mamadou Ciss©♭ -- Urbanization and trade networks in the inland Niger Delta / Mamadi Demb©♭l©♭ -- Politics and trade in medieval Northern Nigeria / Detlef Gronenborn. -- Section III: Matter in motion. Gold, ivory, and copper, materials and arts of trans-Saharan trade / Sarah M. Gu©♭rin -- Dinars as historical texts : documenting the African gold trade / Ron Messier -- Gold processing at the early Islamic market town of Tadmekka, Mali : preliminary results from experimental replication / Gianluca Pastorelli, Marc Walton, and Sam Nixon -- Medieval glass bead production and exchange / Adidemi Babatunde Babalola -- The written word : Islamic literacy and Arabic manuscripts in West Africa / Mauro Nobili. -- Section IV: Reverberations. Red gold : things made of copper, bronze, and brass / Raymond Silverman -- Gnawa material culture : innovation across the Sahara / Cynthia Becker -- Saharan crossing : the realities of migration today / Galya Ben-Arieh -- Bibliography -- Lenders to the exhibition -- Contributors. |
| Summary, etc.: | "Caravans of Gold, Fragments in Time draws on the latest archaeological discoveries and art historical research to construct a compelling look at medieval trans-Saharan exchange and its legacy. Contributors from diverse disciplines present case studies that form a rich portrayal of a distant time. Topics include descriptions of key medieval cities around the Sahara; networks of exchange that contributed to the circulation of gold, copper, and ivory and their associated art forms; and medieval glass bead production in West Africa's forest region. Featuring a wealth of color images, this fascinating book demonstrates how the rootedness of place, culture, and tradition is closely tied to the circulation of people, objects, and ideas. These "fragments in time" offer irrefutable evidence of the key role that Africa played in medieval history and promote a new understanding of the past and the present"-- Provided by publisher. |
Search for related items by subject